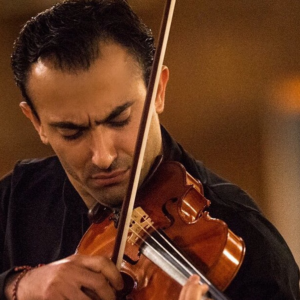 Armenian-French violinist Robert Stepanian was born in Yerevan (Armenia) and started playing the violin at the age of seven. 
He studied at the Music College of Moscow with the famous teacher Zoria Shikhmurzaeva and at the Moscow State Conservatory with Ara Bogdanyan (student of David Oistrakh). He performed his first concert with orchestra at the age of 11, playing Bach and Vivaldi. Robert is a winner of various national and international competitions: Gianni Bergamo Classical Music Award (Lugano, Switzerland, 2012, 2nd prize), 15th International Competition Ciudad de San Sebastian (San Sebastian, Spain, 2008, 1st prize), International Chamber Music Competition of Sergey Taneev (Kaluga, Russia, 2008, 2nd prize), International Violin Competition (Kiev, Ukraine, 2003 3rd prize), National Violin Competition (Yerevan, Armenia, 1998, 1st prize). 
Robert Stepanian performed with orchestras such as the Amadeus Chamber Orchestra, the Moscow Camerata, the Moscow Chamber Orchestra, The Moscow Symphony Orchestra, K&K Philharmoniker, the Valencia Symphony Orchestra, Nouvelle Europe Orchestra and others. From 2010 to 2012, he worked with the Moscow State Philharmonic Society, taking part in concerts of the season called "Philharmonic Debut" and "View of the Future". From 2007 to 2013, he was member of the Russian "Classicus Trio". 
He played in venues such as the Carnegie Hall (New York), Salle Gaveau (Paris), Tchaikovsky Hall (Moscow), the Teatro Metropol, the Pablo Casal Concert Hall (Spain) the Moscow International Music House and others. 
As a soloist and chamber musician, Robert Stepanian gives concerts in more than 30 countries, e.g. Russia, Armenia, Ukraine, Lithuania, Germany, Italy, France, Austria, Belgium, Switzerland, Spain, Norway, Sweden, Denmark, China and the United States of America. His festivals appearances include the Juventudes Musicales, Great Names of Art, the Mendelssohn Festival, the Primavera Classic and Midis de Minimes, Beethoven Festival. 
Robert has also received a number of grants and awards: from the Russian Performing Arts Foundation, the World Music Fund, the Musicians of Armenia and the medal prize from Irina Arkhipova's Foundation (2010). He also received a diploma for "Achievements in Musical Art" from the International Academy of "Creative Endeavours". In July 2009 he took part in the international master class of conductors (Valencia, Spain) and also attended master classes with Boris Kuschnir (Austria), Jean Marc Phillips-Varjabedian (France), Gerard Wyss and Antonio Meneses (Switzerland). 
In 2015 he recorded a CD with pianist Ashot Khachatourian for Azur Classical (Belgium). Recently Robert Stepanian's recording was broadcasted on BBC Radio, France Musique Radio France and others. Robert plays the 1760 Gagliano violin. 
* CD – Label Azur Classical (Belgium)
Ludwig van Beethoven: Sonata in F major for violin and piano n°5, op. 
César Franck: Sonata in A major for violin and piano. Jules Massenet : "Meditation" from "Thaïs".